In samewerking met / In collaboration with
Bied met trots aan die IWeathar Tornado weestasie ekslusief aan ons lede /
Announce with pride the IWeathar Tornado weather station exclusive to our members
Meer oor iWeathar
iWeathar develops and manufactures cell phone based weather and environmental monitoring systems for the home and light industrial markets. As a self-sustainable company our core objective is to develop and design environmentally friendly and sustainable products. Our core markets include aviation, agriculture, mining, construction, sport, weather forecasts and home enthusiasts. Our weather stations are currently operating in South Africa, UK, India, Mozambique, Uganda, Swaziland and Namibia.
The Company was established 13 years ago by the owner Russell Troy Witthuhn, an aspiring inventor and Electronic and Software Engineer and is being run as an efficient and dynamic one-man operation, with the assistance and support of his wife, Chantal.
In the past Russell made many attempts inventing, producing and manufacturing unique products and finally a break-through came in 2006 when he designed a cost effective Internet based weather station with live monitoring. The motivation behind the product design was because Russell, a paragliding pilot, could not afford the cost of a automated weather station. Other pilots started using the online system and became aware of its benefits which generated much interest thereby becoming a commercially viable product.
It has been a slow journey for the Witthuhn's, determined to establish the company and finance the production and design themselves without the assistance of investors and partnerships.
Mission and Vision
The core objective of the home based family business is to develop self sustainable products and projects promoting the 'Go Green' initiative and to settle a platform for future generations. As a technology and innovation business we incorporate and implement the use of both systems in running and managing our business.
Our vision is to make products as affordable as possible without compromising on quality. We aim to optimize the power efficiency of our products and support the use of green or recycled solutions to help minimize our carbon footprint.
Our target is to identify and implement products and projects in all spheres of life where self sustainability is key, i.e. power generation from wind, automated green house for food production etc.
iWeathar strives to make technology as user friendly as possible whilst producing high quality South African products in order to export world wide.
IWEATHAR TORNADO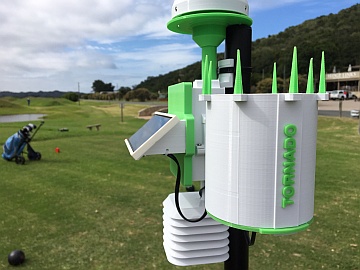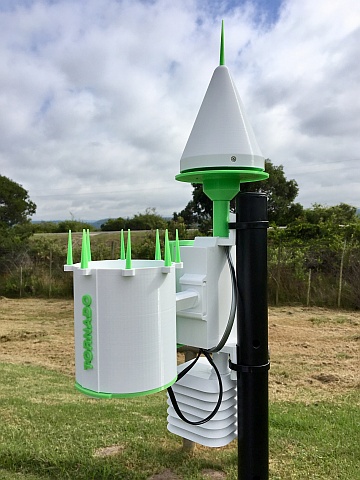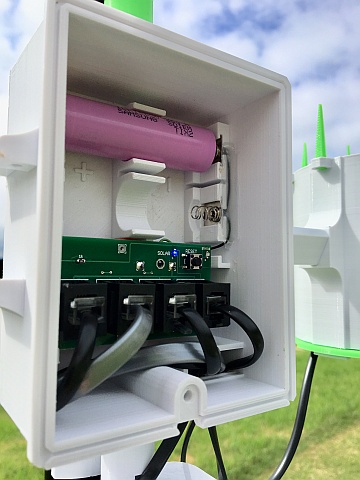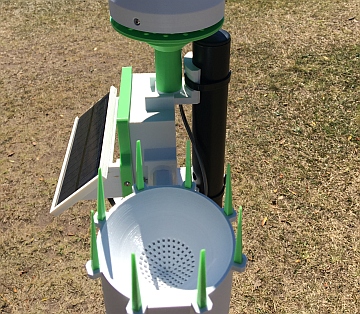 Supports UMTS/HSPA/GSM/GPRS/EDGE
Solid State Wind Sensor with no moving parts.
Flood alert, the more it rains the faster it updates.
Completely energy self sufficient.
Wind, temperature, humidity, rainfall and barometric sensors come standard.
Near Live GSM signal strength and Voltage monitoring.
Uses Lithium Ion Battery Technology.
Over-charge and under-charge battery protection.
Ultra low power consumption at 3mA or less average.
Plastic 100% recyclable and Environmentally Friendly (Biodegradable).
Station components are completely Modular.
Links up to our free iWeathar Lite phone App for Android and iOS.
Manufactured using latest 3D Printed Technology and Materials.
Portable with cell based 'gps' positioning information.
Long life - No external corrosive components.
Can be linked up to Weather Underground for accurate forecasts.
Ideal for farming, airfields, golf courses, construction sites, environmental impact and light industry wind turbine assessments and weather enthusiasts.
Standard Package Includes:
1. Built-in UMTS/HSPA/GSM/GPRS/EDGE quadband modem.
3. 2.6-3A 18650 Lithium Ion Battery.
4. Wind Speed and Direction sensor.
5. Combined Digital Temperature and Humidity sensor for higher dew point accuracy.
6. Attached Solar Radiation shield.
7. Built in Digital high accuracy Barometric Pressure sensor.
8. Attached 0.28 mm incremental rain gauge
9. Cable ties for quick installation.
iWeathar provides online web based services allowing you access to your stations reports, graphs, settings, wind turbine assessment program, data analysis, agricultural programs, Fire Danger Index and much more for a monthly fee of R98, which is paid annually in advance and includes 20 monthly alert SMS's, unlimited emails alerts, SIM card and data fees. No contractual obligations and you can cancel at any time.
You require:
1 x Mounting pole of 45-70mm diameter and a minimum 40cm length to attach the unit to. We highly recommend a good steady pole (avoids wind vibration which affects sensor readings and longevity) with grounded earth line if possible. Pole should be higher than 2 meters from a roof or near-by structure.
Wind Speed

3 - 250 km/h

+/-3% Error
Temperature

-40 to 80°C

+/-0.3°C @25°C
Barometric Pressure *

300 - 1100mb

2% Error over -40° to 85°C
Rain Gauge

0.28 mm increments self tipping.

+/-3% Error
Tornado Complete H 34cm x W 27cm x D 19cm
1. Power Consumption: 3.3 - 4.2 Volts < 3mA (average).
2. Data inputs: 4 x RJ11 Ports, (Sol,Wind,Temp/Hum,Rain)
3. Wind speeds sampled for 90 seconds before upload interval.
4. Upload interval of 10 minutes to our online server at iWeathar for you to access directly. However during heavy rainfall (>16mm) this is automatically reduced down to as little as 3 minutes for flood warnings.
5. Solar Panel (1 Watt, 6-8V).
Each unit is guaranteed for up to 12 months from date of purchase. This excludes lightning and hail damage and other drastic forces of nature.
Product images may differ in design and colour than the actual product as iWeathar always strives to improving our products.
Should you wish to create your own reports etc. you can download the raw data via our website in the standard comma delimited Excel CSV format for you to disseminate.
See live weather stations online HERE
Preview 1
Preview 2
Laai die Toep af by / Download the App at:
PRYS EN PROMO KODE/CODE
Die weerstasie verkoop vir die spesiale prys van
slegs R6,000 aan alle ReenvalSA lede
p&p en installasie koste uitgesluit
Sluit die promo kode in die e-pos saam met jou bestelling om te kwalifiseer
vir hierdie spesiale aanbod
Enclose the promo code in the e-mail together with your order
to qualify for this special offer.
DRX 78749
Bepalings en Voorwaardes / Tems and Conditions
ReenvalSA

het 'n samewerkings ooreenkoms met die verskaffers van die Tornado weerstasie,

IWeathar

, gesluit om die weerstasie aan ons lede teen 'n spasiale prys te verskaf.

ReenvalSA is nie die vervaardigers of verskaffers van die weerstasie nie en alle transaksies vind plaas tussen

IWeather

en die koper.

IWeather

verskaf die nodige toerusting waarborg en enige navrae in die verband moet na IWeathar verwys word.

ReenvalSA ontvang geen winsdeling uit die verkope van die weerstasie nie maar die verskaffer het onderneem om 'n klein gedeelte van die aankoopprys akkumulatief oor te betaal aan 'n Droogtehulp inisiatief van ReenvalSA se keuse.

ReenvalSA het die stasie getoets vir drie maande en is tevrede dat dit voldoen aan ons vereistes.

ReenvalSA aanvaar geen aanspreeklikheid vir foutiewe of defektiewe toerusting of diens gelewer nie.

Aankopers van die stelsel het die alternatief om teen R98.33 per maand 'n subskrupsie fooi te betaal om die data op die internet te deel.
Corner Brick & Diamant rd.
Bestel jou IWEATHAR WEERSTASIE HIER/ ORDER YOUR IWEATHAR WEATHER STATION HERE.